LinkedIn Services
We offer personal brand coaching and ghostwriting to help you optimize your LinkedIn profile, create engaging content, and effectively showcase your personal brand. Let us support you in achieving your professional goals on LinkedIn today!
LinkedIn Profile Optimization in Action!
Drag the slider to see how we can take your profile to the next level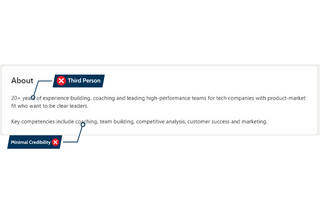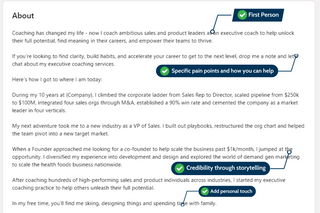 Case Studies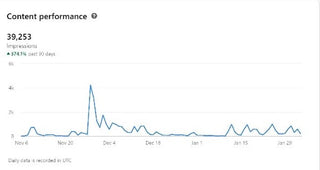 Software Agency CEO
The CEO of a software agency was looking for new ways to source B2B clients. They regularly reshared company posts on their personal LinkedIn page but was only generating 9,000 views every 90 days.
We worked with them to ghostwrite LinkedIn posts with a focus on personal storytelling.
Three months later, their post impressions leaped to 39,000 views in a 90 day period with just two posts per week.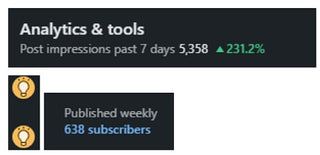 Executive Leadership Coach
The CEO of an executive leadership coaching company was looking to rapidly scale their client acquisition. They had 7,000+ followers but weren't seeing results from their existing LinkedIn strategy.
With our "Done For You" LinkedIn service, we secured the CEO two LinkedIn Top Voice badges to strengthen their credibility, created and scaled a LinkedIn newsletter to 600+ subscribers, increased weekly impressions by 231%, and hit a new record for daily post impressions in the first week writing posts for them.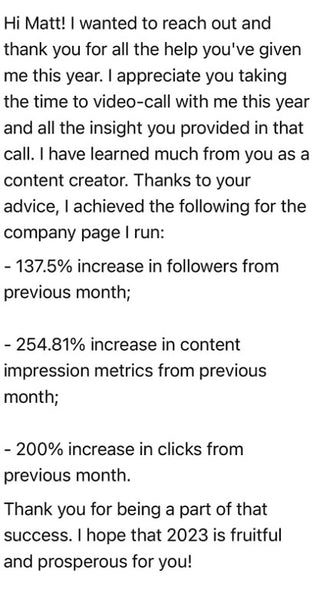 Marketing Leader
A marketing leader was looking for support with growing their LinkedIn company page. I advised them on a new strategy for their company's LinkedIn page
They saw a 138% increase in followers, 255% increase in content impressions and 200% increase in clicks from the previous month. Fast forward 6 months and now they're building their own side hustle managing company LinkedIn pages.
Contact Us to Book a Free LinkedIn Consultation Today!
If you're considering a ghostwriter, we can support you with blog writing and LinkedIn content creation. Drop us an email and we can chat to see if there's good alignment between your goals and our capabilities.

Email: matt@mwmconsulting.org