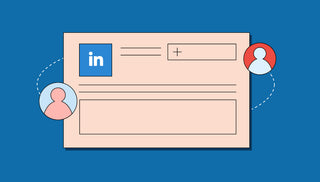 MWM vs. Brand30
When it comes to unlocking the power of organic LinkedIn growth, MWM Consulting stands apart from the competition. Let us introduce you to the unparalleled advantages of our services, setting us apart from Brand30.
Top Alternative to Brand30
With MWM Consulting, you can expect a more holistic and robust approach to achieving LinkedIn branding success.
Brand30 mandates 2x30-minute weekly calls with their clients, which might not on your schedule and istime intensive
Unlike Brand30's standardized approach, our consultants take the time to understand your goals, brand identity, and target audience
With Brand30, you're responsible for writing your posts, but with MWM Consulting, we write your posts for you, allowing you to focus on other essential aspects of your business.
Case Studies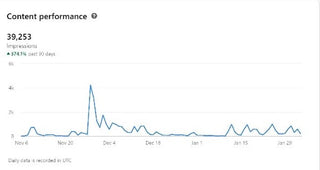 Software Agency CEO
The CEO of a software agency was looking for new ways to source B2B clients. They regularly reshared company posts on their personal LinkedIn page but was only generating 9,000 views every 90 days.
We worked with them to ghostwrite LinkedIn posts with a focus on personal storytelling.
Three months later, their post impressions leaped to 39,000 views in a 90 day period with just two posts per week.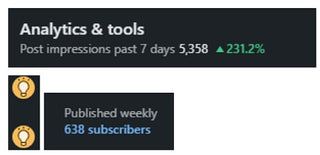 Executive Leadership Coach
The CEO of an executive leadership coaching company was looking to rapidly scale their client acquisition. They had 7,000+ followers but weren't seeing results from their existing LinkedIn strategy.
With our "Done For You" LinkedIn service, we secured the CEO two LinkedIn Top Voice badges to strengthen their credibility, created and scaled a LinkedIn newsletter to 600+ subscribers, increased weekly impressions by 231%, and hit a new record for daily post impressions in the first week writing posts for them.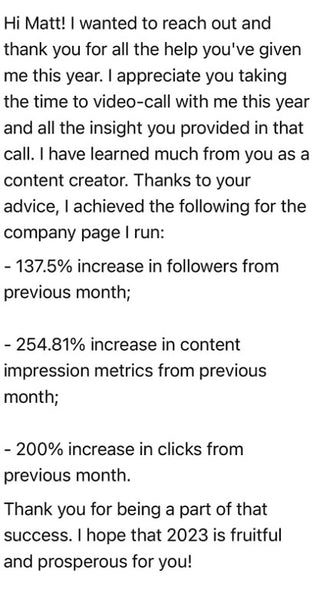 Marketing Leader
A marketing leader was looking for support with growing their LinkedIn company page. I advised them on a new strategy for their company's LinkedIn page
They saw a 138% increase in followers, 255% increase in content impressions and 200% increase in clicks from the previous month. Fast forward 6 months and now they're building their own side hustle managing company LinkedIn pages.
Switch to MWM Consulting
Choose MWM Consulting for a tailored, efficient, and results-driven LinkedIn branding solution that sets you up for success. Contact us today to discover how we can help you outshine the competition and make a lasting impact in the digital realm.